It's the perfect time to do a little Spring cleaning. It's also the perfect time to make sure your home is protected. How? By testing your smoke detectors and carbon monoxide detectors. Smoke detectors alert you of the presence of smoke and/or fire in your home. Carbon monoxide detectors, on the other hand, alert you of the presence of carbon monoxide, often referred to as the silent killer: a colorless, odorless, tasteless compound.
Smoke and carbon monoxide detectors are a great way to protect your family and home—but only if they are functioning properly. Smoke detectors have a normal life span of 10 years. According to the U.S. Fire Administration, smoke detectors should be tested at least once a month. Batteries should be replaced at least once or twice a year.
Carbon monoxide detectors have a life span of 5 to 7 years and can either be plugged into an outlet or be battery operated. Detectors that are plugged into an outlet should be tested once a month while battery-operated ones should have their batteries replaced once a year.
Here is a Home Safety Checklist to review with your family and loved ones courtesy of the U.S. Fire Administration.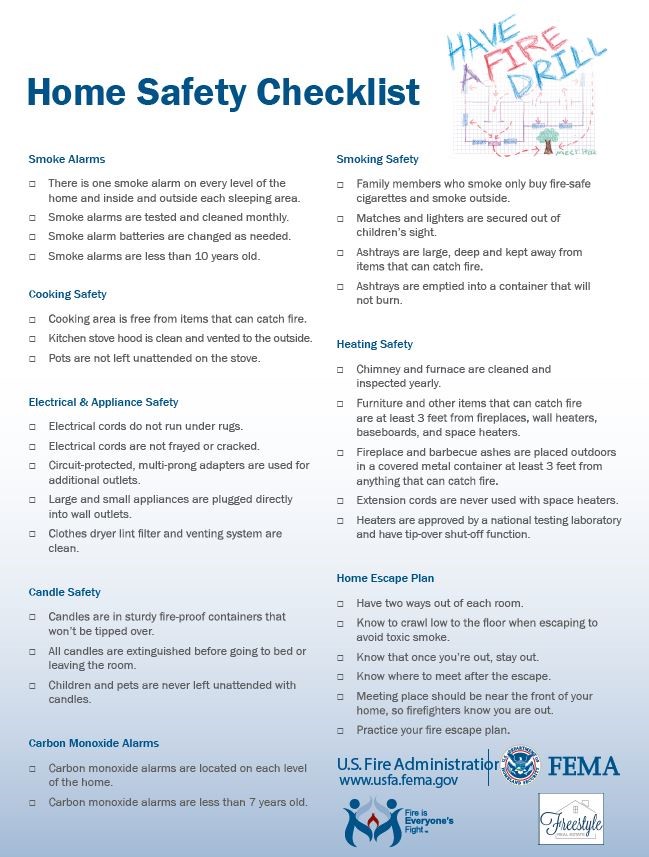 For helpful videos and tutorials, please visit the U.S. Fire Administration website or contact your local Emergency Management Agency for up-to-date assistance. As always, Freestyle Real Estate is available to discuss any concerns you may have about your home and its safety.